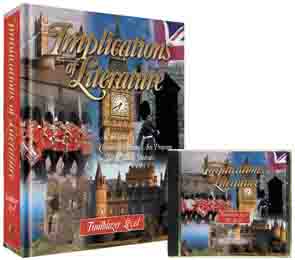 Suitable for 12th Grade
NYSTL Approved
1134 pages

The Trailblazer Level focuses exclusively on English literature and the development of the English literary tradition. The literature in this textbook mirrors 1500 years of human endeavor and enables students to gain an understanding of the movements and philosophies that have shaped society since 449. The 90+ literary selections featured in Trailblazer include novellas, short stories, novel excerpts, two full-length dramas, essays, epic poetry, ballads, sonnets, elegies, odes, and lyrical poetry. William Shakespeare's Macbeth is presented in the unique TextWord Shakespeare format that enhances students' critical and analytical thinking abilities. Handbooks at the conclusion of the text reinforce writing and language-arts skills.
Strategically placed sidebars focus on recognition of motivation, literary techniques, literary devices, and literary imagery.

Literary Critique questions hone critical and analytical thinking skills. Acquisition of these important skills assists students in developing balanced opinions and making sound judgments.

Thought-provoking and challenging Writing Workshops and Reader-Response Journal workshops assist students in developing proficiency in all areas of written communication, including literary analysis. A wide variety of writing tasks will enhance students' skills and help them relate literary experiences to life

Vocabulary Workshop exercises build vocabulary skills through in-context study of new and difficult words in the text. All words used in the Vocabulary Workshop are listed in the Glossary together with definitions, syllabifications, and diacritical marks.

Helpful Definition segments at the foot of relevant pages help student to understand archaic or infrequently used words and unusual word usage.

Our own Regents Review Handbook helps students prepare for New York State's English Regents Examination by presenting two complete sample examinations created especially for this textbook. These sample examinations provide an excellent practice format and will help students as they study for the New York State Regents Examination or for any other national proficiency examination.

A Basic Manual of Style is included as a Handbook to aid in the writing of coherent, well-organized essays and term papers.

An Overview especially prepared for this textbook develops an understanding of the history of England and demonstrates the connection between literature and history, and between art and life.

Teacher's Notes guide presentation of the selections and provide a focus for classroom discussion.
Click to view and/or download Table of Contents and pages in the Teacher's Edition from The Anglo-Saxon Period, The Medieval Period, The Elizabethan Age, The Age of Reason, The Romantic Era, The Victorian Era, and The Twentieth Century, as well as a sample from our Test Bank CD.
These files are in PDF format which require a PDF viewer such as Adobe® Acrobat® Reader™ version 4.0 and higher. Don't have it? Click on the link to download your FREE copy.



Student's Edition #TRAI $60.00
Teacher's Edition #TRAIT $90.00
Test Bank CD-ROM #TRAICD $119.99
A complimentary Teacher's Edition will accompany each class-size order of Student Edition texts.
For more information or to place an order, contact us.