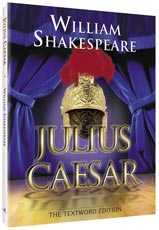 The TextWord Edition of William Shakespeare's
JULIUS CAESAR
NYSTL Approved
181 pages / Softcover
The student-friendly TextWord edition of Shakespeare's classic play of ambition and revenge precludes the need for any supplementary study guides. The unique TextWord format enables students to read the original text easily and to derive great pleasure from their newly found ability to understand Shakespeare's language. Students who conscientiously follow the TextWord format will be well equipped to deal with any literary or language challenges they may face in the future. They will have learned how to crack the code of language and they will then be able to apply this skill to their future studies.
Our format includes unique, graphically attractive features that serve as learning tools.
Sidebars

focus students' attention

FYI

modules provide fascinating data

In Other Words

segments "translate" Shakespearean language into modern, easy to-read English

Helpful Definitions

aid in comprehension

Stagecraft

and

Language Arts

inserts enhance appreciation of staging and language

CheckQuizzes

and

Literary Critique

questions follow every scene

Writing

and

Journal Workshops

provided throughout the text

Do You Remember?

quizzes aid student recall

Shakespeare's Usage

and

Vocabulary

segments increase comprehension
Teacher's Manual presents answers to all questions posed in the Student Edition, and includes supplementary material for further enrichment.

Reproducible Quizzes

and a

Comprehensive Examination

in the Teacher's Manual provide additional testing materials not found in the Student Edition
Click to view and/or download sample pages of TextWord Format, the Student's Edition and Teacher's Manual. (These files are in PDF format which require a PDF viewer such as Adobe® Acrobat® Reader™ version 4.0 and higher.)
Student's Edition:
NYC DoE:
Teacher's Edition:
ISBN 1-930592-25-6
ISBN 1-930592-25-5
ISBN 1-930592-26-4
$10.99
$9.99
$19.99
A complimentary Teacher's Edition will accompany orders of 30 of each student text.
All non-NYCDoE orders are subject to shipping charges that will be added to the invoice.
For more information or to place an order, contact us.