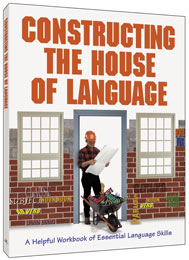 CONSTRUCTING THE HOUSE OF LANGUAGE
Suitable for Grades 9-12
NYSTL Approved
177 pages / Softcover
This attractive and innovative consumable language-skills text-workbook addresses five areas of English language skills that need constant reinforcement in the classroom. Replete with challenging exercises, puzzles, and lively, whimsical graphics, this workbook employs a sequential construction theme to steadily and comfortably advance students from basic levels of language competence to higher and higher levels of expertise. Grammatical and linguistic skills are developed and reinforced in a gradual, step-by-step fashion using meticulous explanations and examples. Finally, each concept that has been introduced, defined, and explained, is reinforced by means of related exercises and intriguing puzzles. Most important of all, students are encouraged to believe in themselves and in their ability to achieve success in these specially selected areas of grammar and language arts.
Five units analyze the basic building blocks of language
Intensive study of parts of speech
An analytical approach to the basic elements of sentence structure
How to structure a paragraph — what is needed, what to avoid
Spelling — renewing, reviewing, and reinforcing
Vocabulary — roots, origins, correct usage
A comprehensive Glossary is provided to coordinate with the Vocabulary Unit
Includes a brief history of the English language
60+ challenging and entertaining exercises and puzzles
CheckQuizzes for selected units
Amusing, entertaining graphics add life to units
Teacher's Edition provides answers to all exercises and puzzles
Click to view and/or download TextWord Format, Table of Contents and pages from the Student's Edition.
These files are in PDF format which require a PDF viewer such as Adobe® Acrobat® Reader™ version 4.0 and higher.
Student's Edition:
NYC DoE:
Teacher's Edition:
ISBN 1-930592-08-6
ISBN 1-930592-08-5
ISBN 1-930592-09-4
$13.99
$14.99
$25.00
A complimentary Teacher's Edition will accompany orders of 30 of each student text.
All non-NYCDoE orders are subject to shipping charges that will be added to the invoice.
For more information or to place an order, contact us.