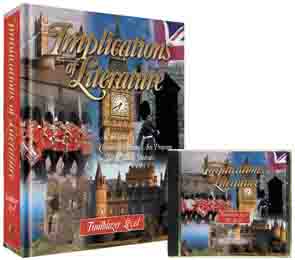 TRAILBLAZER LEVEL
Suitable for 12th Grade
NYSTL Approved
1134 pages
The Trailblazer Level focuses exclusively on English literature and the development of the English literary tradition. The literature in this textbook mirrors 1500 years of human endeavor and enables students to gain an understanding of the movements and philosophies that have shaped society since 449. The 90+ literary selections featured in Trailblazer include novellas, short stories, novel excerpts, two full-length dramas, essays, epic poetry, ballads, sonnets, elegies, odes, and lyrical poetry. William Shakespeare's Macbeth is presented in the unique TextWord Shakespeare format that enhances students' critical and analytical thinking abilities. Handbooks at the conclusion of the text reinforce writing and language-arts skills .
Click to view and/or download TextWord Format, Index, Table of Contents and pages in the Teacher's Edition from The Anglo-Saxon Period, The Medieval Period, The Elizabethan Age, Shakespearean Drama, The Age of Reason, The Romantic Era, The Victorian Era, and The Twentieth Century, as well as a sample from our Test Bank CD. (These files are in PDF format which require a PDF viewer such as Adobe® Acrobat® Reader™ version 4.0 and higher.)
Student's Edition:
NYC DoE:
Teacher's Edition:
Test Bank CD
NYC DoE:
ISBN 1-930592-06-X
ISBN 1-930592-06-9
ISBN 1-930592-07-8
ISBN 1-930592-13-2
ISBN 1-930592-13-1
$65.00
$65.00
$90.00
$119.99
$120.99
A complimentary Teacher's Edition will accompany orders of 30 of each student text.
All non-NYCDoE orders are subject to shipping charges that will be added to the invoice.
For more information or to place an order, contact us.