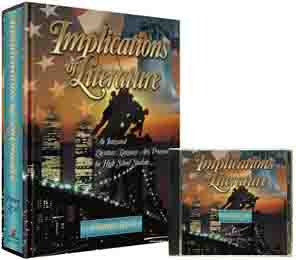 PIONEER LEVEL
Suitable for 11th Grade
NYSTL Approved
888 pages
In preparation for standardized tests and proficiency examinations, the Pioneer Level encourages upper-level students to sharpen their critical thinking skills, distinguish literary themes, and recognize differing viewpoints. These abilities foster the clarity of written expression so critical for success in the newly-formatted SAT examinations.
An introductory 16-page Overview that offers students a synopsis of the events that ultimately led to the development of the United States as we know it today. The Overview encompasses a span of 500 years, enabling readers to gain a deeper understanding of the impact of history on the literature produced during those years of growth, conflict, exploration, and development. Handbooks at the conclusion of the text reinforce writing and language-arts skills.
Click to view and/or download TextWord Format, Index, Table of Contents and pages from the Teacher's Edition, including samples from a short story, poem, biography, nonfiction, and drama as well as a sample from our Test Bank CD. (These files are in PDF format which require a PDF viewer such as Adobe® Acrobat® Reader™ version 4.0 and higher.)
Student's Edition:
NYC DoE:
Teacher's Edition:
Test Bank CD
NYC DoE:
ISBN 1-930592-04-3
ISBN 1-930592-04-2
ISBN 1-930592-05-1
ISBN 1-930592-12-4
ISBN 1-930592-12-3
$55.00
$55.00
$75.00
$119.99
$120.99
A complimentary Teacher's Edition will accompany orders of 30 of each student text.
All non-NYCDoE orders are subject to shipping charges that will be added to the invoice.
For more information or to place an order, contact us.