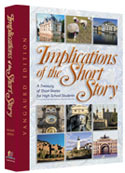 VANGUARD EDITION
Suitable for Grades 11-12
NYSTL Approved
Softcover
Implications of the Short Story: Vanguard Edition contains 15 short stories, accompanied by instructional assistance provided by means of the unique TextWord format. It is bound in a durable linen-finish softcover in an easy-to-carry size.
Carefully selected for their lasting literary value, academic challenges, and ethical, healthy, balanced decision-making options, these stories will fascinate, stimulate, and educate.
Click to view and/or download TextWord Format, Table of Contents and sample pages. (These files are in PDF format which require a PDF viewer such as Adobe® Acrobat® Reader™ version 4.0 and higher.)
Student's Edition:
NYC DoE:
Teacher's Edition:
ISBN 978-1-930592-14-8
ISBN 1-930592-14-X
ISBN 978-1-930592-15-5
$19.95
$19.95
$29.95
For more information or to place an order, contact us.