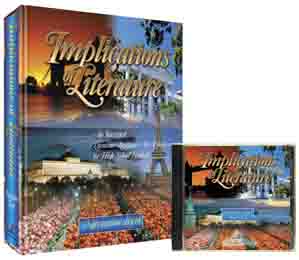 NAVIGATOR LEVEL
Suitable for 10th Grade
NYSTL Approved
887 pages
The Navigator Level treats students to an exciting collection of international literature that will challenge them with entertaining stories, inspirational biographies, insightful poetry, and thought-provoking nonfiction. Charles Dickens' famous novel, A Tale of Two Cities, furnishes a vivid backdrop to the French Revolution. Supplementary background material assists the Social Studies student, and of course, the integrative language-arts process initiated with the Explorer Level continues unabated. Handbooks at the conclusion of the text reinforce writing and language-arts skills.
Click to view and/or download TextWord Format, Table of Contents and pages from the Teacher's Edition, including samples from a short story, poem, biography, novel, and a nonfiction selection, as well as a sample from our Test Bank CD. (These files are in PDF format which require a PDF viewer such as Adobe® Acrobat® Reader™ version 4.0 and higher.)
Student's Edition:
NYC DoE:
Teacher's Edition:
Test Bank CD
NYC DoE:
ISBN 1-930592-02-7
ISBN 1-930592-02-6
ISBN 1-930592-03-5
ISBN 1-930592-11-6
ISBN 1-930592-11-5
$60.00
$60.00
$75.00
$119.99
$120.99
A complimentary Teacher's Edition will accompany orders of 30 of each student text.
All non-NYCDoE orders are subject to shipping charges that will be added to the invoice.
For more information or to place an order, contact us.